Summer Time Outdoor Movies in San Diego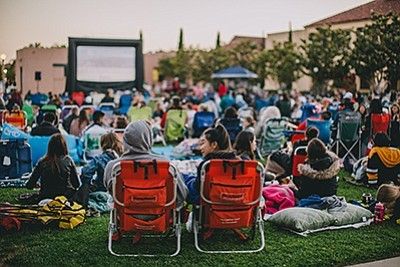 Source: http://www.kpbs.org/events/outdoor-films/
Liberty Station Outdoor Movies
WHEN
Multiple dates from May 12 - Oct 13, 2018[
days & times
]
WHERE
Arts District Liberty Station, North Promenade 2853 Dewey Road, San Diego, CA
Map
AGES
Not available
COST
Free
Arts District Liberty Station welcomes back its free outdoor film series featuring films that relate to the venue's arts and culture offerings.
On the second Saturday of each month from May through October, there will be six films that appeal to film lovers of all ages. The screenings also feature surprise pop-up performances or activities, along with curated shorts preceding the feature film.
May 12
Film: "Coco," presented by New Americans Museum
June 9
Film: "Jumanji," presented by Comickaze Comics, Books and More
July 14
Film: "Wonder Woman," presented by FX Dojo
August 11
Film: "Loving Vincent," presented by Barracks 19 artists
September 8
Film: "A Wrinkle in Time," presented by San Diego Writers, Ink
October 13
Film: "Star Wars: The Last Jedi," presented by San Diego Comic Art Gallery / IDW Publishing
Films begin after sunset. Rain will cause the event to be canceled. No alcohol is permitted. For additional details call (619) 756-7992.
Cinima Under The Stars
4040 Goldfinch St.
San Diego, CA 92103
619-295-4221
View Map
|
Visit Website
​​​​​​​
Cinema Under the Stars Theatre features a 20-foot screen with HD projection and surround sound with single & double zero gravity recliners, love seat cabanas, deck chair/ottoman with table.
Ready for any weather conditions it has retractable covering, blankets, space heaters, all the amenities to keep you warm, cozy and dry.
The Peral: Dive-In Movies
1410 Rosecrans Street San Diego, CA 92106
877-732-7573
View Map
|
Visit Website
​​​​​​​
For the budget-minded seeking places to stay with quality and value near downtown San Diego; The Pearl Hotel is an authentic, intimate, hip and cool, small boutique hotel close to the San Diego Airport, near the Gaslamp Quarter and local tourist attraction.